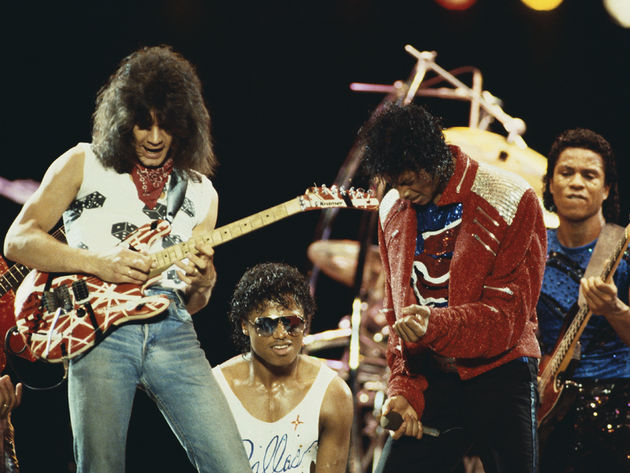 1. Musically speaking, 1984 hasn't aged so well.
I used to think the '80s were all about 1984. Hell, both Eurythmics and Tina Turner recorded songs about it -- "Sexcrime (Nineteen Eighty-Four)" and the David Bowie-penned "1984," respectively -- and Van Halen named its multi-platinum No. 2 album for the year that also provided the title of George Orwell's classic 1949 novel. But after listening to two old Casey Kasem American Top 40 countdowns from 1984 (for the weeks ending April 28 and October 6) and one from 1983 (for the week ending May 7, aka my 14th birthday), I'm singing totally different tunes. So many of the top ones from 1984 (from Lionel Richie's "Hello" to Ray Parker Jr.'s "Ghostbusters" to Stevie Wonder's "I Just Called to Say I Love You" to Wham!'s "Wake Me Up Before You Go-Go"), despite at least two of them (the first and third) being songs I used to love to sing and listen to over and over, now sound almost like parodies of bad '80s music. And don't even get me started on Rick Springfield's "Bop 'Til You Drop"!
2. Most of the Footloose soundtrack hasn't held up either.
As music from movies about dancing that spawned a pair of No. 1
Billboard
Hot 100 singles go, I'd so much rather listen to Shandi's "He's a Dream," Donna Summer's "Romeo" and Joe Esposito's "Lady, Lady, Lady" while
not
skipping over Irene Cara's "Flashdance…What a Feeling" and Michael Sembello's "Maniac" on 1983's
Flashdance
soundtrack. Meanwhile, does anyone really ever again want to hear Kenny Loggins' "Footloose" or Deniece Williams' "Let's Hear It for the Boy"?
3. It was one of the best years for best new artists since 1964!
And I'm not talking about the Best New Artist Grammy nominees, which, truth be told, Eurythmics and the winning Culture Club aside, were hardly staples of the decade. But despite Grammy's lack of foresight in also nominating Big Country, Men Without Hats and Musical Youth for the honor, many other definitive and not-so-definitive acts of '80s music -- Cyndi Lauper! Def Leppard! Duran Duran! The Fixx! INXS! Madonna! Naked Eyes! Night Ranger! R.E.M.! Tears for Fears! Thompson Twins! -- scored their first key Hot 100 hits in 1983, arguably the pivotal year of the second British invasion. So did Bryan Adams and Spandau Ballet, though both were three albums into their runs. And let's not forget that a still-newish Yazoo also released the best of its two albums --
You and Me Both
-- in 1983!
4. It was a Thriller year.
Although "The Girl Is Mine," the first single from the biggest album of all-time, arrived near the end of 1982, "Billie Jean," "Beat It," "Wanna Be Startin' Somethin'," "Human Nature" and "P.Y.T. (Pretty Young Thing)" all made their chart marks in 1983.
5. Prince became a pop star.
And he did it with his first Top 10
Billboard
Hot 100 hit, "Little Red Corvette," from an album whose title was set 16 years in the future. Although
Purple Rain
would send Prince into the stratosphere the next year, making him, for a while, second only to Michael Jackson in terms of chart success, songs for song,
1999
, which was actually released at the end of 1982 but didn't make it big until 1983, might be the more ambitious, and -- Dare I say it? -- better album.
6. David Bowie put on his red shoes and danced the blues.
If he hadn't shown us his pop-soul moves in 1983, Bowie might still be best known in the U.S. as that weirdo who had a couple of cool hits in the '70s.
Let's Dance
and its singles finally made the UK superstar an American idol, too.
7. Tina Turner's comeback of the century commenced.
Although it was one of 1984's main events, it actually started in November of the previous year with "Let's Stay Together," a remake of an Al Green classic that I never cared about until Tina had her way with it. I adore Al Green and his entire string of early '70s hits, except for the only one to top the pop singles chart. But Tina's "Let's Stay Together" producers, Heaven 17's Martyn Ware and Ian Craig Marsh, bathed her remake in such a soft, warm, gauzy glow that it made me a true believer in the power of her love. While it may have stalled at No. 26 on the Hot 100, "Let's Stay Together" restored commercial faith in Ike Turner's previously forgotten former better half.
Private Dancer
(the first full-length album I ever bought) might not have happened the following year without it.
8. Even the one-hit wonders' hits kicked ass.
I'd take Dexys Midnight Runners' "Come On Eileen," Thomas Dolby's "She Blinded Me with Science," Taco's "Puttin' on the Ritz," After The Fire's "Der Kommissar," Kajagoogoo's "Too Shy" and Frank Stallone's "Far from Over" over Rockwell's "Somebody's Watching Me" and Twisted Sister's "We're Not Gonna Take It" any day of any decade.
9. It gave us one final ABBA chart fix.
Two years after the group's final studio album, it came courtesy of the only solo Top 40 hits from the ladies who put the As in ABBA: Agnetha Faltskog's "Can't Shake Loose" and Anni-Frid's "I Know There's Something Going On" (credited to Frida). And how's this for a neat coincidence? Both were written by Russ Ballard, former Argent vocalist (that's him singing the band's 1972 Top 5 single "Hold Your Head Up") and author of such '70s hits as Three Dog Night's "Liar" (first recorded by Argent) and Hot Chocolate's "So You Win Again." Honorable mention for another great 1983 solo single that sounded nothing like a performer's work with his former band: then-ex-Doobie Brother Patrick "Black Water" Simmons'
"So Wrong,"
a No. 30 Hot 100 hit in May on which he almost could have passed for Michael McDonald.
10. Pop would soon lose its twang, but first, '80s crossover country made its final Top 40 stand.
Before The Judds and Randy Travis, among others, ushered in Nashville's mid-to-late-'80s neo-traditional movement, crossover country scored one last time with Kenny Rogers and Sheena Easton's "We've Got Tonight," Ronnie Milsap's "Stranger in My House," Alabama's "The Closer You Get" and Kenny Rogers and Dolly Parton's pop-and-country-chart-topping "Islands in the Stream." Ah-ha indeed.
9 Previously Unmentioned Acts That Achieved Their Hot 100 Chart Highs with 1983 Hits That Still Sound Great Today
Bonnie Tyler "Total Eclipse of the Heart"
Champaign "Try Again"
Eddie Grant "Electric Avenue"
Golden Earring "Twilight Zone"
The Greg Kihn Band "Jeopardy"
The Kinks "Come Dancing"
Madness "Our House"
Pat Benatar "Love Is a Battlefield"
The Tubes "She's a Beauty"