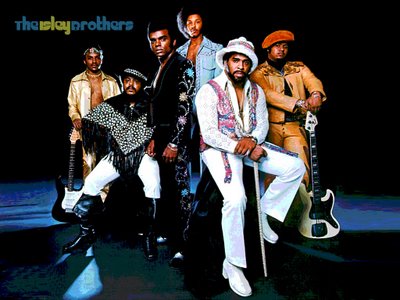 Speaking of making love (which I did in yesterday's post), just because you're not doing it, doesn't mean you can't listen to great music about it, and
Al Green
aside, no musical act in the '70s offered as many stunning sexual stimulants as The Isley Brothers. Have you listened to their soundtrack for romance lately -- songs like "Lay-Away," "That Lady (Part 1)," "For the Love of You (Part 1 & 2)," or "Footsteps in the Dark" -- or at all? It's timeless and better than anything passing for soul music these days.
"Lay-Away"
"That Lady (Part 1)"
I'm not quite sure what brought the Isleys back to the forefront of my musical consciousness recently, but for the past week or so, I've hardly been able to listen to anyone or anything else -- not even
David Bowie
's new album in its entirety.
What impresses me most about the Isleys' love machine is its endurance. Though their biggest hits were in the '70s, their quiet storm only intensified in the '80s and beyond, as they fine-tuned and perfected their sexual healing -- to quote the title of the 1982 Marvin Gaye comeback hit that inspired the Isleys' own career-relaunching "Between the Sheets" the following year -- with more strong medicine.
This, folks, is what making love
sounds
like.
"Between the Sheets"
(from
Between the Sheets
, 1983) The R&B hit that introduced me to the Isleys and perhaps the most-sampled song in their entire discography. Thirty years later, it lives on in its original form and in tracks by The Notorious B.I.G. ("Big Poppa"), Keith Murray ("The Most Beautifullest Thing in This World"), Naughty By Nature ("Written on Ya Kitten" remix), A Tribe Called Quest ("Bonita Applebaum"), and Whitney Houston ("One of Those Days").
"Slow Is the Way"
(from
Mission to Please
, 1996) The trio of songs at the back end of the Isleys' 1996 comeback album (yes, yet another one) -- particularly the closing statement, co-produced and co-written by Keith Sweat -- are as romantically alluring as anything in their catalog.
"If You Leave Me Now"
(from
Eternal
, 2001) I always knew it would take a strong strong man -- and an exceptional performer -- to sing a cover of Chicago's 1976 No. 1 hit and not make me wish I was listening to Peter Cetera instead. That guy is Ronald Isley, and here he gets ample musical support from kid brother Ernie, whose virtuoso riffing elevates the remake into a rocking, soulful testimony of passion and desperation.
"Showdown, Vol. 1"
(from
Body Kiss
, 2003) Ronald and company even managed to make cheating and sexual jealousy -- a recurring Isleys theme, from "Footsteps in the Dark" to "Contagious" to "Busted" -- sound like the musical equivalent of hot and steamy foreplay.
"Blast Off"
(from
Baby Makin' Music
, 2006) Love light in flight, from the Isleys' best latter-day album.