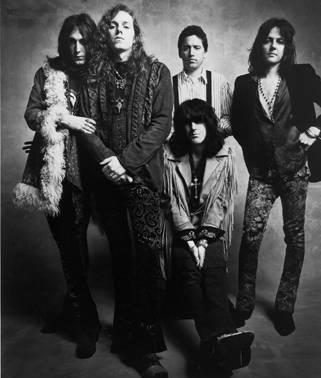 About two months ago, my iPod shuffle landed on The Black Crowes' "A Conspiracy" as I was running around the Tan in Melbourne, and I had one of my increasingly semi-regular '90s moments. They were, after all, some of the best years of my life so far.
As flashbacks of Bill and Hillary Clinton filled my head, I remembered that Atlanta's Robinson brothers and company were my second-favorite rock & roll group of the decade (and the genre's top squawkers, high above Sheryl Crow and Counting Crows), and promptly spent the next 24 hours or so listening to no one else. (R.E.M., fellow Georgians and my favorite '90s rock band, is the only other one whose entire '90s discography I bought and loved, despite the occasionally harsh reviews.)
I meant to say something about them at the time, but I must have been distracted by another golden memory that popped up on my iPod. Now I've been sidetracked again -- thankfully, from my constant whining about the sorry state of Buenos Aires these days -- this time in the Crowes' favor. It happened last night when I finally got around to watching last week's
American Idol
performances by my two favorite remaining contestants, Candice Glover and Kree Harrison.
The latter's rendition of the Crowes' "She Talks to Angels," the band's 1990 fourth single (released the year she was born, which also happened to be the year before I graduated from college), rocked me gently and literally moved me to tears. I'd forgotten how that opening line -- "She never mentions the word 'addiction' in certain company" -- used to kill me every single time when I was around Kree's age. Interestingly, "Angels" was one of only two Top 40 Crowes singles (the other being a cover of Otis Redding's "Hard to Handle"), making the quintessentially American band more successful on the UK singles chart, where it logged four Top 40 hits with four other songs.
In its heyday, The Black Crowes was often criticized for being derivative (too Faces!), but at a time when rock & roll was all about grunge and alternative, proudly wearing your middle-of-the-musical-road badge was a lot more rebellious than dressing down in flannel. There were no forays into experimentalism just for the sake of it. You always knew what you were getting with a Crowes album: tightly written and tightly played old-time rock & soul sung by the most technically proficient '90s frontman this side of Soundgarden's Chris Cornell.
Kate Hudson has made three very smart moves in her life, and the one that wasn't hooking up with Cameron Crowe (no relation -- for
Almost Famous
, the 2000 film that brought the actress her first and probably last Oscar nomination) and Muse's Matthew Bellamy (for her second son, Bingham, almost 2) was hooking up with The Black Crowes' frontman Chris Robinson, father of her first son, Ryder, 9. In my rock & roll fantasy where Robinson is the perfect soul man, I'm certain that letting him go might have been the dumbest thing she's done -- yes, folks, dumber than
Bride Wars
!
But this isn't about her, it's about him and his band, and I guess Kree Harrison, too, who I've got to give credit and perhaps a slight
Idol
edge over Candice Glover (Kree's cover of Faith Hill's "Stronger" has been my favorite
Idol
moment of the season thus far), for reminding me and, hopefully, others of the national treasure we've been taking for granted. Now for five Crowes gems that I couldn't do without.
(Blogger's note: The Crowes' YouTube presence is dominated by live performances while there are relatively few studio tracks and high-quality video clips, so for your optimal listening pleasure, you should check out the albums containing these key Crowe moments.)
5. "Remedy" (from The Southern Harmony and Musical Companion, 1992)
When I was younger and more likely to pull them off, I wanted a pair of trousers just like the ones Chris Robinson was rocking in the video.
4. "Midnight from the Inside Out" (from Lions, 2001)
Was I the only one who thought it strange that the Crowes' hardest rocking effort to date at the dawn of the new millennium was produced by the same guy (Don Was) who'd previously helped make Bonnie Raitt Grammy-bait (with
Nick of Time
), The B-52's Top 40 darlings (with
Cosmic Thing
) and Was (Not Was) a two-hit wonder (with "Spy in the House of Love" and "Walk the Dinosaur)?
3. "Under a Mountain" (from Three Snakes and One Charm, 1996)
I don't believe I've ever been
under
a mountain, but I have been on a slow train coming around one (in the Pyrenees, in 1993). The instrumental introduction to the first track on the Crowes' fourth album has always sounded kind of like how that slow-train experience felt three years earlier.
2. "A Conspiracy" (from Amorica, 1994)
The one that kicked of my recent Crowes fixation, from the group's third album and it's final one to be certified (merely gold, for shipments of 500,000 copies), which would make the Crowes, despite its multi-platinum start, one of the most woefully underrated bands of the second half of the '90s.
1. "No Speak No Slave" (from The Southern Harmony and Musical Companion, 1992)
Or better yet, tracks 5 to 9 on the best Crowes album and the first one that I bought on CD. (I was still slumming with cassettes when I purchased
Shake Your Money Maker
, The Black Crowes' 1990 debut, at Spec's Music and Video, where I was working at the time.) It might be my favorite five-song sequence on any album in the '90s, and its penultimate part remains the most essential Crowes song on my iPod.