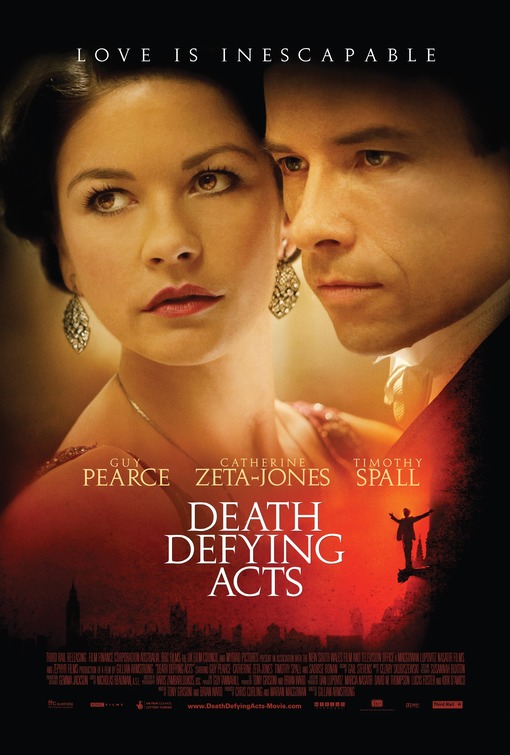 To paraphrase George Clooney in
Intolerable Cruelty
, Catherine-Zeta Jones fascinates me. Unlike some of her 20-movies-a-year peers (I'm talking to you, Nicole Kidman, whose recent break was pregnancy-induced), she acts relatively infrequently. I just found out that she has a new movie out this weeked,
Death Defying Acts
(see poster above). So does Eddie Murphy (
Meet Dave
) and Brendan Fraser (
Journey to the Center of the Earth
). Who knew? I'm so out of the movie loop. I didn't even hear about Oscar's latest Best Picture contender,
Wall-E
, until the day before it came out. Here in Buenos Aires, sometimes I feel as if I'm living under a rock.
Death Defying Acts
is the second consecutive Zeta-Jones movie in which she's the parental figure of a young girl played by a recent Best Supporting Actress Oscar nominee (the category in which Zeta-Jones so deservedly won for
Chicago
in 2003). In last year's
No Reservations
, she was the aunt and guardian of
Little Miss Sunshine
's Abigail Breslin, and in
Death Defying Acts
, her daughter is played by
Atonement
's Saoirse Ronan, who, incidentally, co-starred as Michelle Pfeiffer's daughter in 2007's
I Could Never Be Your Woman
, a romantic comedy directed by Amy Heckerling (
Clueless
) that never made it to theaters in the U.S. but was released in BA as
El Novio de Mi Madre
(
My Mom's Boyfriend
).
Woman
was no
Somethings Gotta Give
, but with talent like Pfeiffer and Heckerling involved, it's a complete mystery to me why The Weistein Company didn't deem it fit for a theatrical release in the U.S.
Of all the major actresses in Hollywood today, Zeta-Jones and Cate Blanchett remind me most of the classic era. I've always thought of Zeta-Jones as a modern-day Ava Gardner, and I'm on the edge of my seat in anticipation of seeing her as Lana Turner in the upcoming murder mystery
Stompanato
. Here are my six favorite Zeta-Jones movie moments:
Her movie star character's humiliating comeuppance at the screening of her new film in

America's Sweethearts.

When she hisses "Keep your paws off my underwear" to Renée Zellweger in

Chicago

.
The scene in

Intolerable Cruelty

in which George Clooney mutters, "You

fascinate

me," as Zeta-Jones walks away.
When her pregnant good-girl-turned-bad issues the command "Shoot him in the head!" to an assassin in

Traffic

.
Her performance of "All That Jazz" at the beginning of

Chicago

(see video below). Musical nirvana! I knew then and there that Oscar was hers!
The closing credits of

The Terminal

because it meant that the terminally boring film was finally over.