Why do bands break up and get back together again?
When I interviewed Sting in the living room of his Central Park West apartment for
People
magazine in 1996, he gave me two good reasons: 1) For the nostalgia. 2) Because they need the money. He said that since neither one applied to him at the time, the world shouldn't expect a Police reunion anytime soon.
I'm not sure which reason came into play when Sting finally reformed the Police in 2007 for a world tour. Maybe pigs flew (returning to the opening and closing theme of my last post). And it looks like they might be preparing to take flight again: According to NME,
"Wham! set to reform 30 years after their first hit?"
That question mark at the end underscores the rumor status of what NME reports would be a one-off gig, but if George Michael and his former Wham! mate Andrew Ridgeley are indeed about to choose life again and reunite, it would be a win for everyone involved, not just reclusive Ridgeley.
Considering the recent state of Michael's personal life (a near-death experience with pneumonia, the subject of his new single, "White Light," out June 29) and his more-than-less inactive professional one, I can't think of a better career move. And why stop at one gig when they could throw in an album, too? A full-blown Wham! reunion would have more built-in interest than a new George Michael solo album, which a new Wham! album basically would be anyway -- only under a name with increased sales potential, at least in the U.S., where Michael has been a commercial non-entity for years.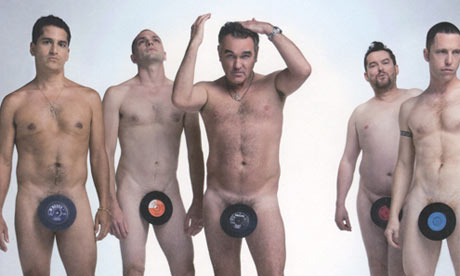 So who's next to reunite among dearly departed '80s groups? A lot of my favorites have already returned: the Cars, Yaz,
Psychedelic Furs
, OMD, etc. Others never went away: Duran Duran, Simple Minds, Depeche Mode, etc. Here are eight reunions for which I'm still holding out hope.
The Smiths
In the words of the recently deceased Rodney King (RIP), can't we all just get along? Terrible things have been said and done -- in and out of court -- by various members of my favorite foursome ever since 1987, the year of the Smiths' non-masterpiece swan song,
Strangeways, Here We Come
, but with Morrissey resorting to posing nude to get attention a few years back, I'd say it's time for him to consider a more appealing, less revealing gambit.
Tones on Tail
We've had new music since the '80s from both Bauhaus and Love and Rockets, so why do Daniel Ash and Kevin Haskins insist on acting like this 1982-to-1984 offshoot never happened?
Bananarama with Siobhan Fahey
I know Dave Stewart's ex is a little nuts (which I discovered on my own when I interviewed her as one-half of Shakespears Sister in 1992 for
People
), but I've never been able to bring myself to care much about the best UK girl group ever since she left in 1988.
The Jets
DeBarge always got more attention among '80s family acts, but the eight Wolfgramm siblings from Minneapolis (of Tongan descent) had more hits -- and they were just as good.
Siouxsie and the Banshees
This iconic post-punk act deserves to finally get its commercial due, and the members should be together to enjoy it.
Shalamar
I never realized just how great this R&B-funk trio was until several months ago, when I watched Shalamar's
Unsung
documentary on YouTube. Jody Watley still looks fantastic, and she deserves to be heard from again. This time, though, I'd move her closer to the front, not just in the center.
Klymaxx
Another recent
Unsung
rediscovery whose oldies still sound good, if dated as hell. I'd love to hear the all-female band and its music updated for the 2010s.
Talking Heads
I love Tina Weymouth and Chris Franz as Tom Tom Club, but I will never give a damn about anything David Byrne does on his own.