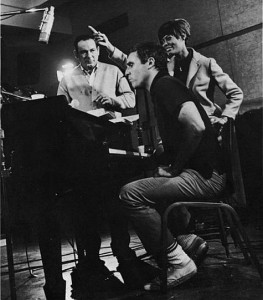 Of all the great duos who make up the history of popular music, I can't think of one that's been more influential in my own life than Burt Bacharach and Hal David. They were so much more than the songwriting team responsible for Dionne Warwick's greatest hits in the 1960s: Their songs were the sound of an era, an era that continues to this day and will live on, even now that one-half of that legendary pair, David, who died of a stroke in Los Angeles on September 1 at age 91, is no longer with us.
One of the most significant achievements of the Burt Bacharach/Hal David canon is how it bridged the sounds of two distinct eras of popular music -- the sophisticated glory of the Gershwins (George and Ira) with Lennon/McCarthy's rock & roll youth movement -- while creating one (a sound, an era) that was all its own. The pair may have been best known for hits written for and/or recorded by Dionne Warwick -- including "Alfie" and "I'll Never Fall in Love Again," not, for those who read the
New York Times
, "What's It All About?" and "What Do You Get When You Fall in Love?," respectively -- but there was so much more to music by Bacharach, lyrics by David.
What leading '60s diva, from Warwick, Aretha Franklin and Bobbie Gentry in the U.S. to Dusty Springfield, Cilla Black and Sandie Shaw in the UK didn't gravitate to their timeless compositions and score major hits with them? A world without "(They Long to Be) Close to You," "What's New Pussycat?" and the Oscar-winning "Raindrops Keep Falling on My Head" would be like a world without love.
Today, in honor of their legacy, and in post-mortem tribute to David, the best of Bacharach/David, the best of love...
"I'll Never Fall in Love Again" Dionne Warwick
File this one under promises promises (see below) that we all know we'll never keep. (Interesting fact: Several months before Warwick hit No. 6 with it in January of 1970, it was a UK No. 1 for Bobbie Gentry.)
"I Say a Little Prayer"
Aretha Franklin
Dionne Warwick took it to No. 4 in 1967, but she'll forever have to share this song with Franklin, who gave it the gospel spin worthy of its title and had a No. 10 hit with it the following year. It remains her biggest UK solo single (No. 4), second only to "I Knew You Were Waiting for Me," her 1987 No. 1 duet with George Michael.
"(There's) Always Something There to Remind Me" Naked Eyes
Warwick lost control of yet another Bacharach/David classic when the '80s British duo dropped the parenthetical and took her 1968 non-hit, which had been a 1964 UK No. 1 for Sandie Shaw, and took it all the way to No. 8.
"Promises, Promises" Dionne Warwick
There's no stealing this 1968 No. 19 hit (the title song from a Broadway musical based on the 1960 film
The Apartment
), not to be confused with Naked Eyes' "Promises, Promises," a completely different song and the duo's second hit, which reached No. 11 in 1983.
"The Look of Love" Dusty Springfield
Not just any song could have inspired one of the most indelible performances by a girl called Dusty.
"This Empty Place" Dionne Warwick
More flawless bossa nova-style pop courtesy of Bacharach/David.
"This Guy's in Love with You" Herb Alpert
I prefer Warwick's cover, a No. 7 single in 1969, but the 1968 No. 1 version by Alpert, perhaps best known as an instrumental performer, is decidedly the definitive one.
Carpenters "(They Long to Be) Close to You"
And of course, the most enduring hit by the brother and sister duo that Alpert discovered and signed to his label, A&M Records.
"Sea of Heartbreak" Don Gibson
Along with Marty Robbins' "The Story of My Life" and Willie Nelson and Julio Iglesias's "To All the Girls I've Loved Before" (co-written by Hal David and Albert Hammond), a most memorable foray into country music by David (with co-writer Paul Hampton).
"Message to Michael" Dionne Warwick
I could dedicate a week's worth of blog posts to the greatness that Burt Bacharach and Hal David created with their finest instrument, Warwick's voice, and one week I just might. For now, though, I'll leave it at this, a No. 8 hit from 1966.