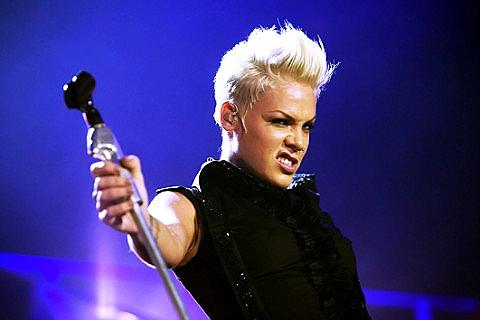 Could it possibly get any worse than this?
What if will.i.am and Justin Bieber's "#thatPOWER" and Mariah Carey's "#Beautiful" kick off a new bad habit in pop: hashtag hits? Isn't it bad enough that they're already continuing another one: The hashtag hits are the latest in pop's long tradition of bastardizing English with its song titles.
As usual the end results are mixed, with only Carey's single coming close to warranting its hashtag hype. The shameless bit of built-in marketing doesn't ruin the fact that it's Carey's best single in five years (since 2008, when she barely dented Billboard's Hot 100 with "I'll Be Lovin' U Long Time"). Here are some other cases where poor orthography didn't spoil the song. (Interesting orthographical pop fact: Though few might question the grammar in the title of Tina Turner's 1984 career-redefining hit, which is now so entrenched in our vernacular, if an English teacher were to pose the question in real life, it would be "What does love have to do with it?")
"Ain't That a Shame" Fats Domino/Pat Boone/Cheap Trick
Have you ever heard the one about Pat Boone and how he tried to alter the title of Fats Domino's 1955 release (which ultimately reached No. 10 on the Hot 100) to "Isn't That a Shame" because he didn't want bad grammar to alienate his squeaky clean (read: white) pop constituency, which sent it to No. 1 anyway? In the end, he left well enough alone -- sometimes "isn't" just doesn't have the same ring as a well-placed "ain't" -- paving the way for the continued pop-staple status of latter. And that
ain't
no shame.
"Telefone (Long Distance Love Affair)" Sheena Easton
Would she have had an easier time tracking down her elusive lover if she had used a
telephone
instead?
"Kool Thing" Sonic Youth
For some reason that completely escapes me now, a friend and I recently devoted several minutes of conversation time to naming our favorite Sonic Youth song. Yes, how '90s of us. I almost went with Sonic Youth's 1990 first major label single as the best of Sonic Youth, but then I remembered "Bull in the Heather."
"Hungah" Karyn White
The 1994 single that ended White's short run as a crossover pop star holds up better than I thought it would at the time.
"Grapevyne" Brownstone
I wonder what the late Marvin Gaye would have done if he had heard it through the grapevyne instead.
"Da Funk" Daft Punk
Considering that the French duo's 1996 breakthrough single was an instrumental, it easily could have been called "The Funk" without missing a red-hot beat. At least they didn't call it "Da Phunk." No good ever comes of "Phunk" for "funk," as The Black Eyed Peas have proven over (with 2003's
Elephunk
) and over (with "Don't Phunk with My Heart" two years later).
"Giv Me Luv" Alcatraz
It's gotta be "luv" for "love" (as Robin S. had sung three years earlier, on her 1993 single "Luv 4 Luv"), so come here, and
giv
it to me.
"Sexx Laws" Beck
I don't know how to explain it, but Beck's 1999 single probably wouldn't have sounded the same with just one "x."
"Dirrty" Christina Aguilera featuring Redman
A much better use of an extra "r" than Nelly's "Hot in Herre," but unfortunately, pop fans thought differently. While Nelly's dreadful 2002 anthem topped Billboard's Hot 100, Aguilera's valiant effort topped out at No. 48. At least the UK, once again exhibiting superior taste in pop, sent it to No. 1.(Fun fact: With her next single, Aguilera took her own "Beautiful" into the Top 3, which I suspect is right where Carey's is headed.)
"U + Ur Hand" Pink
When my iPod shuffle landed on Pink's 2006 Top 10 hit yesterday morning, I found myself wondering wondering why "Ur" for "Your" never caught on quite like "U" for "You." (Fun fact No. 1: Did you know that the official styling of Alecia Moore's stage name is P!nk, another twist in proper orthography. Fun fact No. 2: A pink-coiffed Gwen Stefani once told me that she worried about the long-term prospects for a singer named after her then-hair color, meaning P!nk, who was on her first album at the time. Look who's the one still regularly cranking out No. 1 hits more than a decade later!)
"I Would Die 4 U"/"Take Me With U"/"anotherloverholeinyohead"/"U Got the Look"/"I Wish U Heaven"/"Gett Off" Prince
and
"Nothing Compares 2 U" Sinead O'Connor
(written by Prince) The King of Misspelled Pop certainly had a way with words -- and symbols -- until I started losing interest some time around
Diamonds and Pearls
. Few pop stars could temporarily change their moniker to an unpronounceable symbol and return to normalcy (I've always loved that "Prince" isn't a delusion of grandeur -- or royalty -- but his actual birth name) with his reputation more or less intact. Let's hope he's not eyeing this hashtag trend and getting any bad ideas.
"Anotherloverholeinyohead"