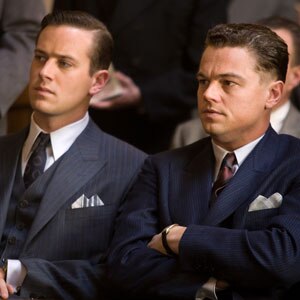 You'd think that starring as J. Edgar Hoover, one of the most controversial men of the 20th century, in J. Edgar would be Leonardo DiCaprio's ticket to the podium on Oscar night.
Right?
Wrong. Probably not with Brad Pitt (
Moneyball
) and George Clooney (
The Descendants
) in the running. And definitely not with Meryl Streep expected to finally bring home the gold for the third time for playing former British Prime Minister Margaret Thatcher in
The Iron Lady
. I can't see Oscar going home in one night with with two actors playing two vile and reviled historical figures.
Since Streep is widely considered to be more overdue for her third win than DiCaprio is for his first (if only the Academy would focus on performances and not on who's due and who's not), I'm giving her the edge. If DiCaprio wins the Oscar for
J. Edgar
(and for the record, despite his typically excellent work, I don't think he deserves to), I'll eat it -- if I can pry it from his grip.
As for the movie, my feelings about it are mixed. It wasted two great actresses -- Judi Dench, as Hoover's mother, and especially Naomi Watts, as his career-long personal secretary -- in the epitomization of thankless roles (though Dench does have one standout clip -- see below). It featured some of the worst old-person make-up I've seen since Julianne Moore aged 40-odd years in The Hours. (DiCaprio, however, does make an extremely convincing old coot. He could be Phillip Seymour Hoffman's brother 20 years from now.) And at times, I felt like I was watching re-enactment scenes in a History Channel documentary.
Still, I enjoyed it more than Moneyball (yes, more anti-sports sentiment) in spite of its biopic-cliche overload. Maybe it's my love of U.S. history. Back in school it was the one class I was always wide awake for, and some things never change. History was the one thing that pulled me into Midnight in Paris, too. So I suppose, in a way, I can relate to Oscar's obsession with biopics. Six out of his last nine Best Actors have starred as A-list historical figures, so the odds should be on DiCaprio's side.
Right?
Wrong. Again. For one thing, DiCaprio's age works against him. Oscar typically likes his Best Actors fortysomething and above. But even if DiCaprio, 37, were three years older, he's still in the wrong movie. Oscar also likes his Best Actor winners in critically acclaimed films, which J. Edgar is not. (His Best Actresses, like Sandra Bullock in The Blind Side, and probably Streep in Lady, tend to have an easier time getting away with critical duds.)
One of director Clint Eastwood's miscalculations, I think, was skimping on the details of Hoover's cross dressing, which is merely broached during a conversation between Hoover and his mother in the film's best scene, and his homosexuality. DiCaprio prancing about like a transvestite "daffodil" (Hoover's mother's word, not mine) would have all but guaranteed him the Oscar.
Some of Sean Penn's best work in Milk (for which he won his second Oscar and which, intriguingly, won J. Edgar writer Dustin Lance Black an Oscar for Best Original Screenplay) was when the film explored the romantic and sexual dynamic between Harvey Milk and his lovers, played by James Franco and Diego Luna, and J. Edgar is most moving when it gets out of the political board room and goes into the bedroom -- literally. The scene where a fist fight with Clyde Tolson (played by The Social Network's Armie Hammer, who must be quite an actor because I keep thinking he has a twin brother) ends with a kiss and Hoover's warning not to ever do that again, does more than any other to get to the root of Hoover's evil.
Deeply closeted and conflicted, he used public displays of morality to compensate for what he perceived as his inner immorality. It's as cliche as a gay man with an overly doting mother who would rather "a dead son than a daffodil," yet the scene is a telling one. Too bad Eastwood and Black offer little else that transcends routine biopic melodrama and connect-the-dots characterization.
If I were making the movie, I would have put Hoover's relationship with Tolson at the center, weaving in the historical details (which are all pretty much already matters of public record) into their story instead of the other way around. (Hoover's narration/dictation to Chuck Bass -- I mean, Gossip Girl's Ed Westwick, playing his biographer -- barely touches on Tolson.) J. Edgar is more revealing as a romantic drama than as a political or even a historical one, and DiCaprio, like the movie, excels when detailing Hoover's personal angst. The Hoover vs. Tolson throwdown would be a great Oscar clip for when Natalie Portman presents the nominees. Of course, we'll probably get one of Hoover's many pontificating sequences instead.
Yes, I'm pretty sure DiCaprio will get his fourth nomination, and for now that will have to be his reward. Better luck next time -- which, if he really expects to win, should be around 2015.